A mini projector is one of those products that feels like it's from the future. As long as you have a blank wall or a white sheet, you can watch a movie anywhere on a ginormous cinema-like screen. Most models are able to project up to a 100-inch image and even have built-in speakers. And although the pictures they produce don't rival those from a TV or full-sized projector, mini projectors are the easiest and most inexpensive path to bringing the big screen to your own backyard, or, for those who prefer coziness over camping, to their living rooms.
what to consider

where you'll use it

There are a few factors to consider before buying a mini projector. First, you need to decide where you will use it. If you plan to primarily use your projector outdoors, you'll want a model powered by a rechargeable battery since you likely won't have easy access to a power outlet. If you live in a rainy climate, consider opting for a model that has a weatherproof design.

Portability
You should also pay attention to the size and shape of the projector. Some mini projectors are around the size of an energy drink can, others look like a thick Moleskine notebook or a small video game console, and a handful even have a carrying handle for easier transport. Be sure to pay attention to the projector's weight, too, so you don't get stuck lugging around a heavy projector all day!

Media Playback
Next, you need to decide how you plan to watch content. Some projectors have full-size HDMI inputs on their backside so you can plug in a streaming device, Blu-Ray player, laptop, tablet, smartphone, or video game console. Others have USB ports for playing back personal media files, and some have built-in Wi-Fi for casting content from a smartphone. Our favorites have an operating system that allows you to download internal streaming-video apps that you log into just like you would on Netflix using your smart TV.

Screen Size, Brightness, Resolution
We didn't intentionally save the most confusing part for last, but here we are. It's also important to determine how big of a screen you need to create and compare each projectors' brightness and resolution. Brightness is measured in lumens or ANSI lumens. We recommend opting for a model that has at least 200 ANSI lumens. As for resolution, you should get a projector with at least a 720p resolution, but 1080p is preferred and offers more detail.
how to chose
hours were spend on researching the best mini projectors on the market, comparing specs and features, and reading consumer and editorial reviews of all our picks.
To determine the best mini projectors worth buying, we thoroughly scrutinized their designs, ease of use, durability, picture quality, speaker quality, and battery life. Our picks are lightweight, super portable, and easy to use on the go. Plus, they pack enough battery life to get through a two-hour movie, while still being small enough to toss into a bag.
Whether you're looking to have an outdoor movie night, need a new presentation tool for work, a portable display for gaming on your garage door, or want a portable home theater set-up, there's a projector here for you.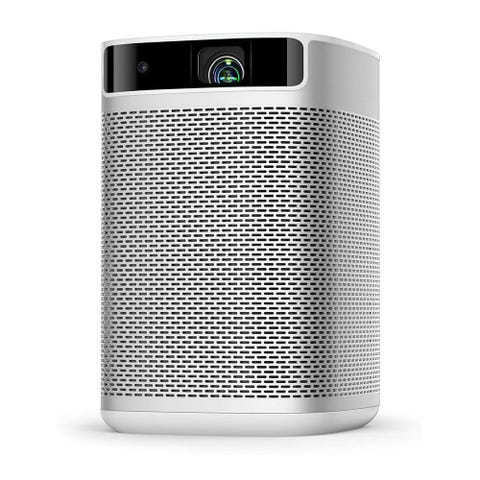 Dimensions: 5.74 x 3.72 x 4.15 inchesWeight: 1.98 poundsResolution: 1920 x 1080 pixelsMax screen size: 100 inchesBrightness: 300 ANSI lumens
XGIMI MoGo Pro Portable Projector for Outdoor Movies Night, FHD 1080P Mini Projector, Smart Projector with Automatic Keystone Correction, Android TV 9.0, 5000+ Apps, WiFi Bluetooth, Home Entertainment.
The projector stands at under 6 inches tall and it weighs less than 2 pounds, so it's one of the most portable projectors you can buy. We appreciate that it provides users a choice of two video inputs: HDMI and USB 2.0 for offline viewing.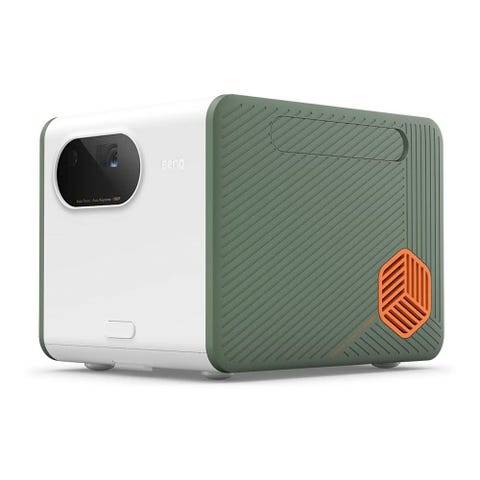 Dimensions: 7.32 x 5.75 x 6.06 inchesWeight: 5 poundsResolution: 1920 x 1080 pixelsMax screen size: 110 inchesBrightness: 500 ANSI lumens.
The BenQ GS50 is a premium cube-shaped mini projector that runs the Android TV operating system. What sets the GS50 apart from most other mini projectors is that this one is IPX2-rated, which means it's resistant to light splashes and rain. We're big fans of its green-and-white color scheme and love its brown leather strap. Not only does it look great, but the projector is even drop-resistant.
As far as video quality is concerned, the projector dishes out a crisp image with a resolution of 1920 by 1080 pixels, which is better than most. The projector has 500 ANSI lumens of brightness, meaning it's bright enough for both indoor and outdoor use. And with an estimated runtime of 2.5 hours, you should have enough juice to get through an entire movie.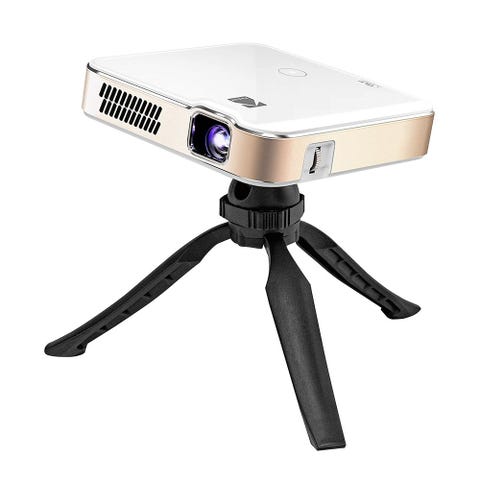 Dimensions: 4.4 x 1.1 x 4.4 inches Weight: 1 pound Resolution: 1280 x 720 pixels Max screen size: 150 inches Brightness: 200 ANSI lumens
Measuring less than 2 inches thick and just 5 inches tall and wide, the Kodak Luma 400 lives up to its "mini" moniker. It's actually one of the smallest mini projectors we've come across and weighs just a single pound and fits in the palm of your hand. Don't let its small size fool you; this projector is able to project an image up to 150 inches in size.
We were most pleased with the projector's image quality. It offers a decent 1280 by 720 pixeled resolution, so your videos will look great. You have the choice of using its HDMI or USB ports for video playback, or you can download streaming apps directly on the projector since it runs Android.
The Kodak Luma app also offers users a screen mirroring feature. The projector has a pair of 1-watt speakers which work in a pinch, but we recommend using its headphone jack to plug in something a bit more powerful since the Luma only reaches 29 decibels.